Every year Hollywood designer and arbiter of fashion, Mr. Richard Blackwell, published his list of the ten best and worst dressed people in the demimonde. Mr. Blackwell has since gone to his maker, but the STONEzone refuses to let this fine tradition die. In 2008 we published our first 10 BEST AND WORST DRESSED PEOPLE in the world. It was well received. 2009 got more notice.
Our goal is to sort out those who are merely fashionable from those who possess real style, for fashion is fleeting and style endures. That's why you won't find Justin Timberlake or Gwen Stefani on our list. Fashion is about fads and what is "in" now, while style is a personal factor that can not be "learned"- you either have it or you don't.
You will notice that our TEN BEST AND WORST dressed list contains liberals and conservatives, Democrats and Republicans. The STONEzone may lean right, and I personally dress right, but our style choices are completely non-ideological. Great style knows no ideology. We don't take politics into consideration and in 2009 gave a posthumous listing to Ted Kennedy who continued the all- American 'trad" based style of his brothers. This year former San Francisco mayor Willie Brown wins the Stonezone's lifetime achievement award. While I don't share Willie's politics I share his love of the finest tailoring in America.
Frankly this column get harder and harder to write each year.The dressing of our citizenry hasn't improved much in 2009. Finding finely frocked ladies is no problem. Few men care about the how they are adorned and it shows. There are no Fred Astaires, who mixed formality with a casual look seemingly without effort or Gary Cooper who favored an broad-shouldered American look with European touches he learned from an Italian sugar-mama he shacked up with before fame arrived. Washington has no Dean Acheson, an anglophile rarely seen without a proper fitting waistcoat, instead we have John Boehner, a son of the mid-west who dresses like an aluminum siding salesman.
The Zone has compiled it's official list of the BEST and WORST dressed men and women of 2010. However, first a few more words regarding the sorry state of fashion in America, and the very few who can plausibly claim to be true possessors of style.
Americans cared deeply about proper dressing in the 1930s, 40s and even the 50s. The 60′s, a decade fashion forgot, also began a trend of informality that devolved over time from slovenliness in the 90s to dishevelment in the 2000′s. No matter how many times Details tells you to wear white sneakers with a tux……. don't do it. The sheer number of men who will go out in public in a wife-beater is staggering. Very few can look like a young Marlon Brando but men still crowd casinos, bars, malls and sport events in this "outfit." Women in "hoodies" and baggy sweat-pants with a Victoria Secret slogan on the ass seem to be ubiquitous
The task of then sifting the real dandies from our society-the men and women, who think about dressing without ever appearing to think about dressing, is more difficult than it appears. This nonchalance, this insouciant nature of dress must look effortless – like you "threw" it together, yet be tasteful,interesting and correct.
10 BEST DRESSED MEN OF 2010

Wynton Marsalis – Continues a tradition of Louis Armstrong, Duke Ellington and Count Basie . His trouser and odd jacket combinations often include dandified touches like velvet or houndstooth. His non-matching vests are carefully chosen. He manages to look hip without looking flamboyant. When it comes to dressing he's the natutral heir to Miles Davis, one of the all-time greats but with a greater formality.

Charlie Watts – When band-member Mick Jagger was seeing Savile Row's "over the top" tailor Tommy Nutter in the 1970′s for some outlandish outfits, the Rolling Stone's drummer was quietly going to Poole and Dege, more traditional English tailors down the row. The result is somber, perfectly-fitting and low key suits that are as solid as his back-beat. As fastidious as Keith Richards is disheveled.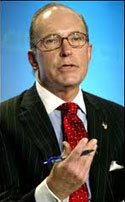 Larry Kudlow – The CNBC financial maven and economic growth advocate makes our list for the third time. Seen this year in a shawl collared dinner jacket that was so finely cut it took the breath away, Kudlow's shirt and tie combinations are always perfect for cable TV or an night on the town. Without a doubt one of the best dressed men in New York City.

Gordon Woodrow – The Philadelphia pol, man-about-town, one time high government appointee and raconteur does the country look like no one else. Mixing tweeds, tattersall, cheviots, checks, plaids with wool challis ties and brown suede shoes combined with a denim work shirt and collar pin for a dandified touch, Woodrow always looks like he just came from shooting grouse or skeet.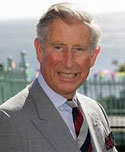 Prince Charles – While some may say Charles should look good as he probably doesn't dress himself those people would be wrong. Charles learned his impeccable style from his father, Prince Phillip who was a client of Huntsman, the venerable London tailor who's house style has military lineage. Charles prefers the less structured 'drape" look of Anderson and Sheppard although often combines his dressy double breasted suits with a less formal regimental stripe tie which you can get away with if you are in line for the throne.

Brit Hume – TV newscaster's clothes arent supposed to look "fast" but must be somber, formal, reassuring and not look jarring to the folks in Manhattan or Des Moines. Brit Hume pulls this off with aplomb. His 'slightly wider" ties are of a width to be timeless., dark colored suits compliment his lean frame. His all-American style matches FOX's viewers perfectly.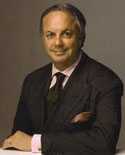 Alan Flusser – If Tom Ford, a designer of men's clothes, can make most conventional men's best dressed list than Alan Flusser can make ours. Flusser is a designer of fine men's wear but he is so much more; author, authority, savant, arbiter and advocate for all that is correct and tasteful. Flusser is the designer other designers consult and emulate. To see him in a Dupioni silk suit and vintage rayon shirt from the 30′s in the summer heat or a Prince of Wales plaid suit and solid black cashmere tie in winter is to see sartorial perfection.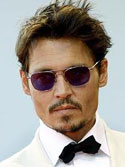 Johnny Depp – Now rockers and actors and those in the creative field can get away with things the rest of us cant but Depp's dark look, his affection for hats and a minimal but tasteful jewelry land him on the list. Scruffy but never too scruffy, it's a look Depp has perfected.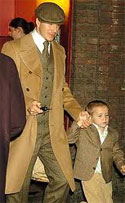 Dave Beckham – It helps to have a perfect body but great tailoring is meant to hide imperfections, making the fat look thinner, the short look taller, hiding a paunch etc. In Beckham's case none of that is necessary. Smartly cut suits, newsboy caps, classic aviator sunglasses, odd vests and perfectly tied scarfs make him stand-out when not in a soccer uniform.

Josh Mankiewicz – You expect Brokaw and Lauer and Williams to be well turned out but over-looked is NBC's Dateline reporter. His two- button natural shoulder suits are always matched with the "right" shirt and tie. An occasional peaked lapel single breasted suit sets him apart. The length of his collar points chosen to compliment his face, always accented with the perfect pocket-square in a puff that looks like he stuffed it in his breast pocket without a thought.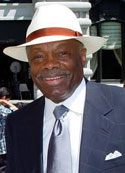 LIFETIME AWARD: Willie Brown – From his hand-crafted Brioni suits to his extensive collection of hats, the former California Assembly Speaker could be the best dressed man in America. While most men should avoid brown as a suiting color ( Philadelphia brahmin Biddle was once asked why he had over 200 identical bespoke blue suits . "Because brown looks like shit " he replied ) Willie brown pulls it off in both double breasted and three piece vested models. As mayor Brown sometimes cahngd clothes as many as four times a day for his various public ceremonies. A master of color-co-ordination Browns shoes, suit,shirt, necktie and chapeau always complement each other.
The Worst Dressed Men of 2010

Michael Moore – Please someone just shoot him. The man gives the word "slob" a new meaning; slovenly.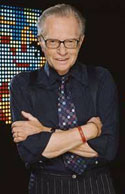 Larry King – Thank God this man is done in primetime. What is with the black shirt, black ties, black suspenders look? Who does Larry think he is – Johnny Cash? Even worse- the black shirt and white tie– even Lucky Luciano wouldn't wear that. Larry actually wears clip-on suspenders. Wise up Larry.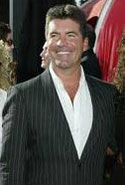 Simon Cowell – Third year on the WORST list. Man-boobs should be hidden not accentuated This guys looks like a wax pear that sat on a radiator too long. Has he ever seen the inside of a gym? I swear he is buying out of the INTERNATIONAL MALE catalog. A pinstriped suit with a shawl lapel? For a guy from the U.K. he ought to know better.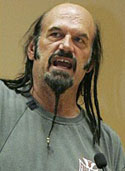 Jesse Ventura -He looks like a homeless Hulk Hogan on his latest cable TV interviews. The bald with a ponytail look is so…still bald. Jesse- want to be taken seriously? If you are going to go on TV with outlandish conspiracy theories don't wear outlandish clothes. Try a shave, haircut and a good necktie.

Chuck Schumer -Trading Senate votes for Special Interest campaign contributions is hard work and doesn't leave you much time to think about clothes. Schumer has been seen in the Senate wearing the same baggy-kneed, wrinkled suit and dress shirt three days in a row. New York has some of the greatest tailors in the world, Chuck needs to call one. Maybe he can get one of his campaign committee's to pay for it.
10 BEST DRESSED WOMEN OF 2010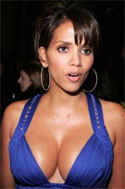 Halle Berry – No one is as breathtaking on the Red Carpet as Berry. Her careful selection of bold colors never betrays her. She is stunning in evening wear and sports clothes. Just refined good taste.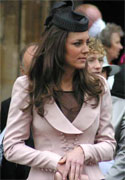 Kate Middleton – The newly engaged Middleton will join the ranks of Princess Grace of Monaco and today Queen Rania of Jordan and Spain's Letizia, Princess of Asturias as one of the best dressed royals. Simplicity is her watchword. Her millinary choices are always on target. She exudes the best of English style.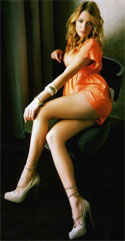 Blake Lively – The Gossip Girl star has legs that go on forever. If she's sporting a short skirt she hides the cleavage. If showing the decolletage she hides the legs in a long shirt or dress- in other words, Lively knows when too much is too much.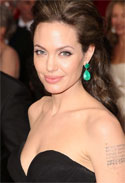 Angelina Jolie – Yes I know she's on Vogue's list but perfection must be recognized. Equally perfect on the Red Carpet or in perfectly fitting jeans and a simple blouse, the globe-trotting Jolie seems to know what looks good on her. The reddish tinged hair she wore in' The Tourist" has too go though.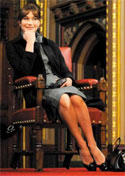 Carla Bruni – The wife of the French President has a casual and a sexy style that is continental, chic, and understated. Although Italian she may be the single best ambassador for French couture. Her look is spare and simple and accentuates clean lines.

Sophia Loren – Although she is seldom seen in public these days, when she is seen she wears high end Italian couture like no one else. This raven haired beauty is somehow sexier in her clothes than she would be au natural. If you have seen photos of her in a garter belt and silk seamed stockings, you have seen feminine perfection.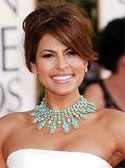 Eva Mendez – Let's face it. The woman and wear a shower curtain and she would still look good. Ms. Mendes has a skin tone that allows her to choose any color but which works particularly well with pastel colors. Mendes knows her body and selects outfits to accentuate it without ever being vulgar.

Georgette Mosbacher – This fiery Texas redhead is a woman about town in New York and never fails to dazzle the demi monde. No one wore the big shouldered look of the 70s better but Mosbaccher has abandoned it for finely tailored suits and always chic cocktail dresses.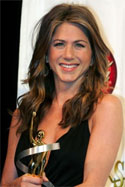 Jennifer Aniston – This woman knows what she looks good in. she sticks to a short skirt and strappy heals because she knows it looks best on her. She rarely changes her hairstyle because she has a looks that works for her and sticks to it.

LIFETIME AWARD: Nancy Reagan – Even though she is out of the public eye she can't be denied. Nancy Reagan epitomized California style in the 60s with her capris pants and casual cotton blouses then represented the best of American style in her bold Red Adolfo knits in the White House Years. When she ventures out or lunch in Beverly Hills she's still impeccably turned out. She's been on best dressed lists since the 60′s and deserves to be.
The Worst Dressed Women of 2010

Snooki – This girl has a big all natural Italian rack. Nothing else good can be said about her.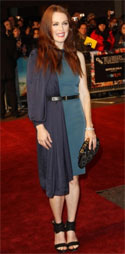 Julianne Moore – Sadly this actress has no sense of coordination and can't piece together an outfit to save her life.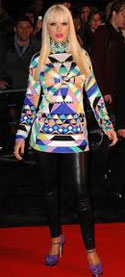 Christina Aguilera. – When one gains weight one must adjust the size and color of one's clothes to accommodate. This singer doesn't seem to understand that. Tight fitting clothing accentuates fat, doesn't minimize it.