The true gentleman doesn't need an excuse for dressing well, but the Christmas Holidays are a perfect time to expose the inner peacock. Informality and a festive attitude help.
The business suit is too everyday and starchy for caroling, unwrapping presents or drinking from the wassail bowl.
The perfectly cut navy blue blazer is just the ticket. Double breasted with six buttons or the single-breasted with three buttons with the top button always undone (of course!).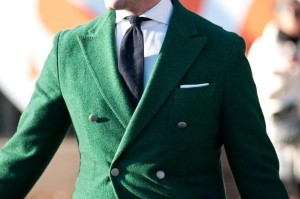 Paired with heavy gray flannel trousers can be made more holiday friendly with a red and green striped regimental type tie. Highly polished Weejuns or tassel loafers match the informality of the look. You can add red socks if you are George H. W. Bush, or even if you aren't. Don't forget the pocket square which should be fine Irish linen and does double duty being used to wipe lipstick from your lips if you linger under the mistletoe too long.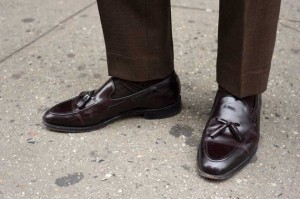 If you go the blazer route, recognize that while a button down oxford cloth shirt will work with the single breasted models – the slightly-more-formal double breasted blazer really requires a more formal spread or "Windsor" collar. Trust me, you will look more dashing than Errol Flynn! Eschew the necktie only if you want to look like a salesman from New Jersey.
If you want to step-up from the Navy blazer ensemble consider the velvet blazer. In burgundy, a well-cut and properly tailored velvet blazer looks dashing with gray flannels and a cashmere sweater or a sleek, solid velvet tie.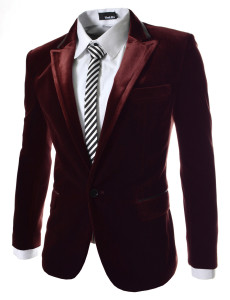 A black or royal blue velvet blazer will look great with a pair of jeans and a black or navy cashmere turtle-neck sweater — though it's a more casual look, perhaps for decorating the Christmas tree.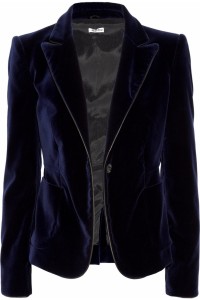 In bottle green, it's perfect for the Christmas-party circuit. I'd avoid fire-engine red, lest one look like an out-of-work department store Santa. No one looks as good hoisting a martini glass as a man fitted out in a smart, rich-colored velvet jacket.
Of course, a two-button velvet jacket with notch lapels is less formal than a single-button peaked lapel job. The latter can be substituted for a dinner jacket when New Years Eve ends the season (dinner jackets are incorrectly but frequently called "tuxedos" by Americans). For those who are truly adventurous, braided "frog-closure" or a shawl collar can step up the formality. A word of caution – plush velvet conjures up kings and opulence. Crushed velvet conjures up pimps and hookers. Know the difference.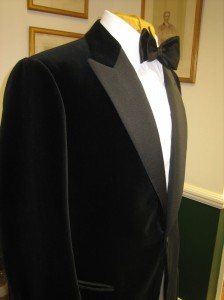 Regardless of how you get decked out for the Holidays – Season's Greetings from StoneOnStyle.com