Nothing makes a man feel as sharp and debonair (and makes the ladies swoon) as when donning a tuxedo.
Unfortunately, "black tie" is an often misunderstood dress code, leading men to end up looking more like Lloyd and Harry in Dumb and Dumber than 007.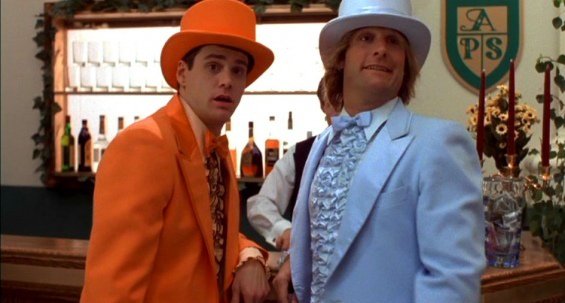 You can thank rental outlets and high school proms for a lot of the misconceptions.
When you're in the business of renting tuxedos, you want people to believe that they are appropriate for all kinds of events, and that means they can sometimes be turned into a novelty item.
Fun for the whole family and good for some laughs, no doubt — but it's certainly not the refined elegance needed for a true black tie event.
While seeing "Black Tie" on an event invitation can be intimidating, the good news is that getting black tie right isn't hard!
In fact, the strictness of the dress code makes it one of the easiest outfits you'll ever plan.
If you've got a clear, straightforward guide (like this one), figuring the whole thing out is a project of less than an hour.
Black Tie Basics
First, a few things you need to know about black tie attire:
1. Black Tie Is Not the Same as Formal Dress
It's commonly assumed that black tie is the highest standard of dress for men.
In fact, black tie evolved from what was, at the time, fairly relaxed evening attire. The tailless tuxedo jacket gets its name from Tuxedo Park, an early 20th century enclave of trendsetting, fashion-forward New York swells.
The highest formal dress for the evening follows the "white tie" dress code, a similar but distinct set of clothing. In dress code terms, black tie is evening semi-formal attire. Which leads us to another important point…
2. Black Tie Is Not Daytime Wear
You know those herds of tux-wearing groomsmen you see at popular tourist attractions and photo op sites on nice days? They're doing it wrong.
The trend is unlikely to stop, but for people who are serious about getting their formal and semi-formal dress right, tuxedos are evening wear only.
The usual rule of thumb is that you dress for the end time of an event. So a long ceremony that starts in the afternoon and ends after dark is tuxedo-appropriate, but one that starts in the morning and ends in the afternoon when the sun is up is not.
That said, the invitation is always your guide. If a well-meaning friend has requested "black tie" for his morning wedding, you show up in your tux and you don't say a word about it. Being a good guest counts for more than being right.
3. Black Tie is Not a Costume
You're not pretending to be a character when you wear black tie. It's not a waiter costume, or a groom costume, or anything else.
It's your clothing (even if it's rented), and it's the clothing you wear when you want to make it clear to someone that you care about their event. It's a gesture of respect in clothing form. Treat it as such, not as a novelty.
Proper Black Tie: How to Wear It Right
So now you know what black tie is (and isn't). But how do you do it "right"?
There's a pretty strict framework for black tie attire. It has a little flexibility on some of the small details, but by and large it's a uniform look.
Here we'll describe, piece by piece, the "gold standard" black tie look. Where you've got options, we list them. Where you don't, we don't. Trust us on this one and don't believe what the guy at the rental place tells you.